Huggies value box size 3 - review
By Value hunter on Jan 30, 2010 | In News, Thrifty shopping, Baby, Product reviews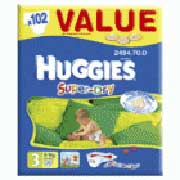 We had problems with Huggies size 1 nappies in a multi pack, with leaking at the sides of the nappies. Several changes of clothes later it was apparent that it was not just the odd nappy, nor was it the way we were putting them on.
So when we picked up a box of size 3 huggies nappies, I was a bit sceptical, seeing as there are two types of size 3 huggies nappies comes in. Never the less we decided to try them.
They do in deed keep baby dry, but leakage is a major issue again.
Out of the 102 nappies in the box, we have used about 70 of them - more than 20 of these have leaked number 2s up the waist and out of the legs!
This has resulted in 20 changes of clothes - when the washing and changing is taken into account, any "value" disappears and it starts costing more money.
It is no good having a "super dry" nappy when baby has to be changed every hour or hour and a half, once the number 1 fills up any of the nappy it pushes it away from baby's body and any number 2s that follow go straight out the sides and waist, resulting in a full change of clothes for baby.
Imagine our frustration when we have changed baby 30 minutes before going out, only to find she has leaked all over her clothes!
We wouldn't recommend this product as it is not good "value" and does not fit baby securely when baby has had a number 1.
They do make another "size 3 huggies nappy" in a red box, so we may try them to see if they are any better, more than likely we will try a different brand as we have had problems with both size 1 and size 3 huggies nappies and no longer trust them.
No feedback yet