Direct line - hiding negative website feedback
By Value hunter on Aug 21, 2010 | In Money chat, Bad business, Product reviews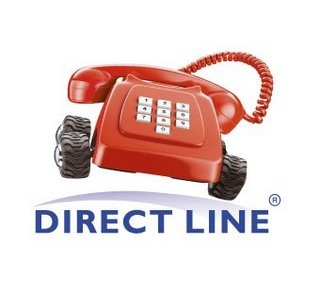 Regular readers of my rants will know, that I cannot stand Direct line car insurance.
I was insured with direct line for 14 years, as well as 13 years for my better half and 2 years for sprog1.
In all that time and with just four changes of vehicle, my direct line insurance costs went UP, every single year (sometimes more than once a year if I changed a vehicle).
Even when the value and engine size of my vehicle was lowered, the price that direct line charged me INCREASED.
A few years back, for some bizarre reason, several direct line staff refused to price match their own website prices (for new customers only they told me!)
Direct line staff thought it acceptable for me to have to cancel my insurance policy and start up as a new customer, instead of just price matching what they were offering new customers and making sure of keeping my custom.
Yesterday, it became clear to me, why they chose to do this!
I had to prove to my new insurance company that I had 14 years no claims bonus - I rang direct line to get a letter sent out with proof on, as on my renewal notice, they had conveniently lost 6 years of my no claims bonus entitlement.
When the letter arrived yesterday, again, they ommitted 6 years of my no claims bonus.
My direct line insurance renewal quote this year has more than doubled, despite speaking to "customer service" and "customer loyalty" departments, nothing further could be done. I left them and went with another company. In two months, my better half will also take her insurance policy and go somewhere else.
Now what do you suppose my new insurer will do, when they see less no claims bonus than stated when I took out my new policy?
Of course, they will remove some of the discount given and the price will become the same or slightly higher than the price direct line quoted.
So how does this show Direct line are hiding negative feedback?
I googled to see if anyone else has posted online about the same problem... not a single result, very unusual!
I tried a few different terms for the same issue, once again I got nothing!
I checked the keywords that people have searched for when visiting this website via search engines, strangely, almost all references to "direct line" in search engine visits to this website have disappeared in the past ten days.
I ran a search engine search for just the term "Direct line" and went through the first ten pages of results, viewing all the links listed in them, to posts on websites.
In ten pages of links, there was not one single negative link/post, that referred to direct line!
Only promoted links to direct line were listed.
Three weeks ago I searched for the term "direct line double my insurance" and got well over four pages of links to websites where people have posted about their insurance being doubled.
It is clear from this, that google or yahoo search results, etc, are not the most relevant to what a person is searching for information about.
There are ways (I do not know how it's done, either by paid methods, buying keywords, or other underhand ways?) to remove negative posts by people all over the internet, about a business or business practice! (I didn't know this could be done!)
What is evident is that my website posts and comments, about my experience of being a direct line customer, are amongst those being "hidden" on search engine results - not a problem for me as I don't rely on huge numbers of website traffic visiting my website.
It just shows you what lengths direct line will go to, to cover up their appalling customer service and the way that they treat their customers.
UPDATE:
At long last a letter of confirmation has come through from direct line, regarding my "full" no claims bonus, that I currently have.
It's another failure though, as I have 14 years no claims bonus (as confirmed by the advisor I spoke to) yet direct line have only credited me with 12 years.
Any ideas what direct line have done with the other two years? Neither have I...
Other Direct line posts:
Direct line double the cost of my car insurance
Direct line motor insurance
Companies I wish never existed - Direct line
 
4 comments
Comment
from:
Mrdirectline
[Visitor]
The reason your ncd shows 6years is because the max ncd directline offer is 5 years, so when you set up your new policy online you would have stated you have max 5years ncd, then when your policy came for renewal it turned to 6years ncd , if you ring directline and ask them to manually calulate your ncd including your previous policy they will send you a letter confirming your 14years ncd . You just have to ask them
26/08/10 @ 11:58
Comment
from:
valueformoney
[Member]
I did ask them, twice! The first time they sent out a letter stating exactly the same reduced years no claims as they put on the renewal letter. The second time I phoned them, they conceded after investigating, that I was correct and then proceeded to spout the usual Direct line verbal diarrhea... "most other car insurance companies wont apply your no claims discount for more than 5 years" blah blah blah. Fact is other car insurance companies do use more than 5 years no claims to work out customer discounts, and since when did direct line advisors suddenly become such experts in what other companies are doing? The direct line advisor promised me faithfully, that the correct number of total no claims bonus accrued, would be put in a letter and sent out. They assured me that it would take 2-3 days... as is normal with direct line, its been over a week and still no sign of the letter confirming this. Utterly useless they are.
26/08/10 @ 13:03
I had the same experience with Direct Line over an annual travel insurance policy. I've been with them for years and they sent a renewal notice for £290 for a family of four, which seemed a bit excessive. I logged on to their site and discovered that as a new customer I could get the same cover for £200, so I called and was advised to take up the 'new customer' policy rather than renew. Needless to say I went elsewhere - eventually paying £130...
24/09/10 @ 11:30
Comment
from:
valueformoney
[Member]
I would go even further, there is a clear case of discrimination here, yet the quangos that were set up to protect us will do nothing about it. Why should one customer be allowed to buy a product or service from a company and pay a different price to another customer for exactly the same product? The amount of times I hear that an existing customer, without any claims, is being charged more than a new customer, if only I had a pound for each one...
25/09/10 @ 11:04